We wish to welcome our guests to a warm and traditional home environment situated less than 100 meters from the beach in a privileged small corner of paradise with a 6 hectare natural setting.
This place is just like his owners: convivial, warm-hearted, refined and genuine. Nothing flashy.
As a matter of interest, it is here that the grandfather of the owner has already lived.
Αn unspoilt life away from the hustle and bustle of the fabled excitement of crowded, noisy, and promiscuous Cycladic islands..
We would like our guests to live "a simple island life", in an establishment where we are anxious about environment and a real family guest home.
Our daily concern is for our guest to enjoy a quality stay in a comfortable an spacious room and we are at your disposal to ensure this.
Our address is from word of mouth.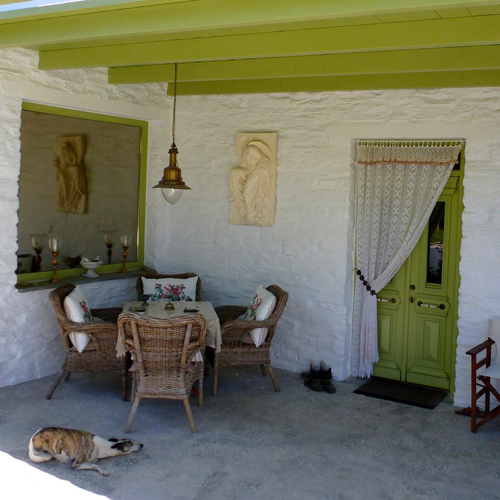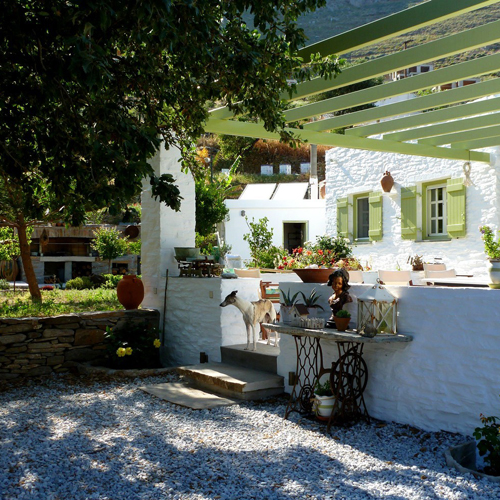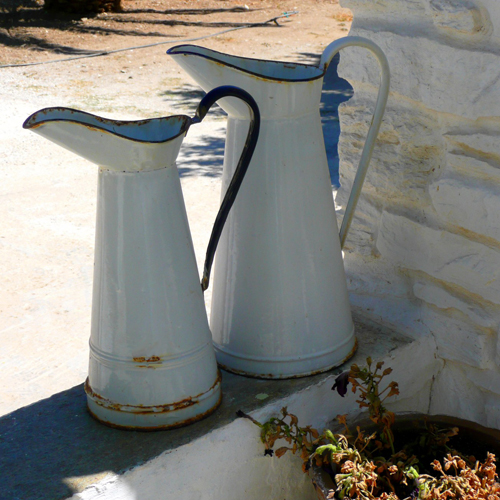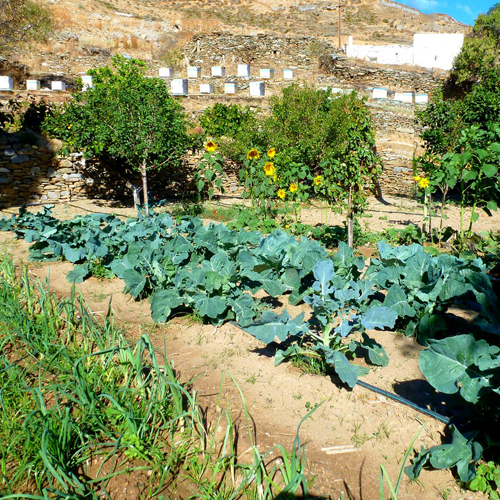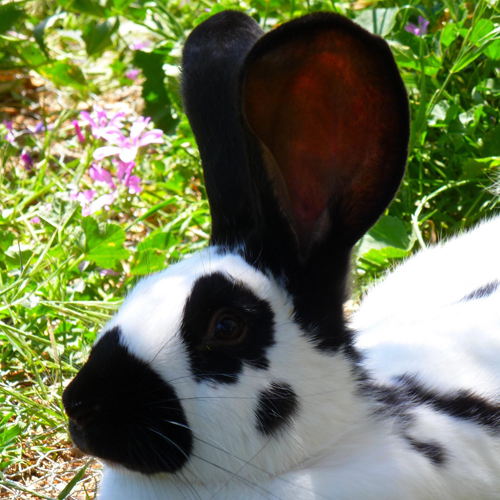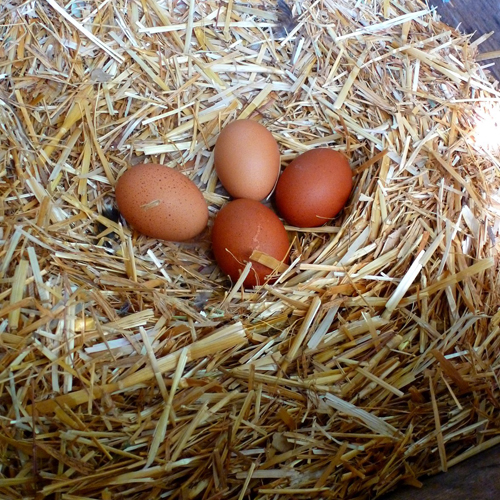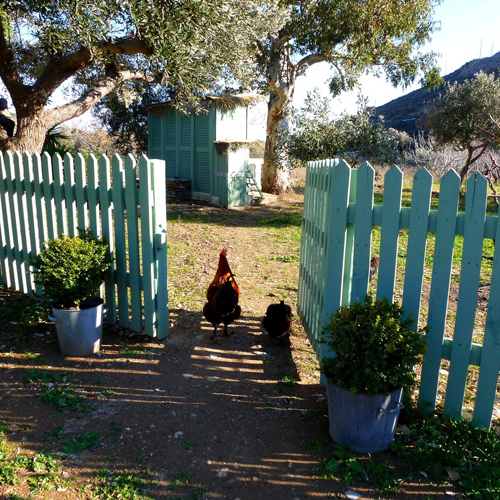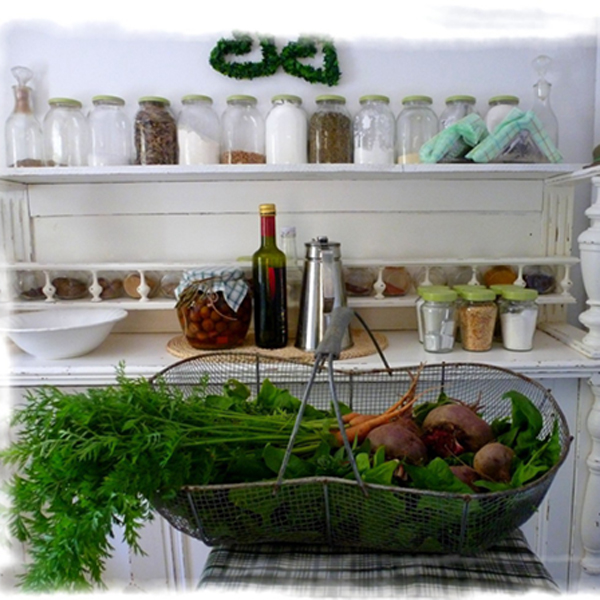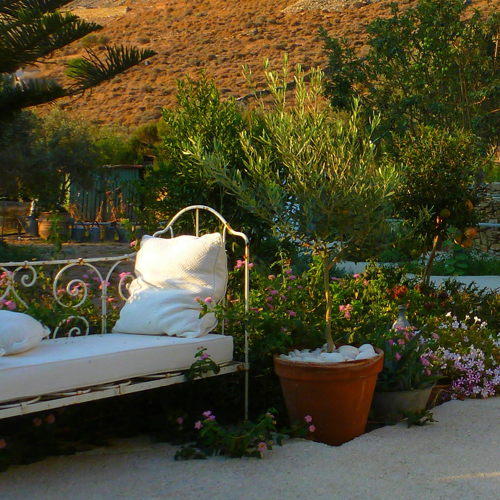 La Maison Vert Amande
Average rating:
34 reviews
Jul 2, 2022
Very beautiful place and two amazing Hosts, Geraldine and Gorgos, welcome you in their traditional Farm which was renovated at highest Standards. You will leave as a friend. Breakfast with very good variety and amazing products, mainly from the own Garden. Geraldine offers homecooked dinner as well and she is a great chef. Highly recommend to buy their honey, Olive oil and wine. Thanks for the great time we had.
Sep 19, 2020
Tolle Unterkunft. Wir kommen sicherlich wieder. Es gibt keine anderen Gäste, da nur ein Zimmer vermietet wird. Zimmer und Bad sind sehr sauber. Wir haben zwei Wochen lang jeden Abend in der Unterkunft gegessen. Diese Möglichkeit ergibt sich vielleicht nicht direkt aus der Beschreibung der Unterkunft. Geraldine kocht großartig und ist auch sonst eine sehr herzliche und aufmerksame Gastgeberin. Wir haben uns sehr wohl gefühlt. Der Strand ist in Laufweite. Da dieser (und damit auch die Unterkunft) nur über eine 5km lange unbefestigte Straße erreichbar sind, war es dort immer recht leer. Da die Straße in den Reviews zu dem Strand immer wieder angesprochen wird: wir hatten einen normalen Peugeot 206, damit war es kein Problem. Ansonsten würde Geraldine einen wohl auch von der Fähre abholen und auf der Insel herumfahren; haben wir aber nicht ausprobiert.
Sep 16, 2020
Μεράκι,λεπτομέρεια,φροντίδα και αγάπη για τα πάντα είναι αυτό που μου έμεινε...




Πέρασα υπεροχα και έβαλα μέσα στην καρδιά μου το la maison την Geraldine και τον George...you are the best

❤️
Jul 24, 2020
Ήταν ένα εξαιρετικό σπίτι. Η Ζεραλντιν κ ο Γιώργος είναι παρά πολύ φιλόξενοι κ εξυπηρετικοί. Το πρωινό της Ζεραλντιν είναι πεντανόστιμο κ είναι όλα είναι βιολογικά κατευθείαν από τον κήπο τους. Η παραλία είναι 3 λεπτά με τα πόδια από το σπίτι κ είναι καθαρή. Γενικώς είναι ένα μέρος που μπορείς να πας κ μα χαλαρώσεις.




Το μόνο αρνητικό ήταν ότι για να κατέβεις μέχρι κάτω στο σπίτι είναι 5 χλμ περίπου χωματόδρομος, όχι πολύ κακός αλλά και χωματόδρομος κ το βράδυ δεν έχει και τόσα φώτα.
Nov 5, 2019
Es ist wunderschön in der einsamen Bucht Spathi in der Ferienwohnung Maison Vert Amande. Man wohnt in einem historischen Farmhaus, wo sehr leckerer Thymian-Honig hergestellt wird. Auch eine liebevoll gestaltete Gartenlandschaft lädt zum verweilen ein. Unbeschreiblich gemütlich ist dieses Ferienhaus, wo alles sehr gepflegt ist und man fühlt sich rundum wohl. Vor der Tür gibt es mehrere Sitzgelegenheiten, wo man den Tag romantisch ausklingen lassen kann und man hört aufmerksam das Zirpen der Grillen und die Luft riecht nach Thymian und Kräutern. Morgens bekommt man mit viel Liebe ein tolles Frühstück serviert mit selbstgemachtem Honig und Konfitüren. Man wird sehr freundschaftlich empfangen und man fühlt sich wie unter Freunden. Die Insel Kea ist auf jeden Fall eine Reise wert. Mir hat es dort supergut gefallen und wahr mehr als begeistert. Der Abschied fiel mir schwer!!



Apr 8, 2019
Περασαμε υπέροχα με τοσο όμορφους ανθρώπους (Geraldine+Γιώργος)
Ενας μοναδικός χώρος φτιαγμένος με πολυ μερακι και αγάπη!!!
Ευχαριστούμε για ολα!!!
Oct 5, 2018


The house is a little paradise surrounded with Olive trees, grapes, mountain and sea view...It is 7 mn walking distance from a wonderful beach. A delicious breakfast is served by the lovely Geraldine with home made jam and honey, fresh eggs, and greek yogurt in front of beautiful palm trees....


Géraldine et Georges accueillent leurs invités comme des amis... C'est avec un gros pincement au cœur que nous sommes reparties regrettant de ne pas avoir réservé plus de nuits dans ce lieu magique qui saura vous éblouir aussi...Nous reviendrons les yeux fermes en 4x4. Si vous arrivez de nuit vous pourrez être surpris par le chemin qui mène a Spathi, son accès se mérite mais ça en vaut la peine ! Une authenticité et une nature préserve! Love Love Love!


It is better to have a 4 wheel drive car to get to the location. there is 5 km of rocky road in the mountain which is quite impressive if you go there by night....


Oct 5, 2018


We had a fabulous time. You won't find another place like this!


The hostess was amazing. The house is amazing. The place is totally unique. So many pleasant and unexpected surprises here!


Bed was hard. Everything else was fantastic!


Oct 5, 2018


Πολύ όμορφος χώρος κ πολύ φιλικοί οι ιδιοκτήτες!


Δύσκολη πρόσβαση (χωματόδρομος 5χλμ)


Oct 5, 2018


Wonderful secluded rural place near a small beach on the island of Kea - a Greek idyll


La Maison Vert Amande is the most relaxing, peaceful and quiet place you could imagine. Located on a secluded part on the island of Kea, this place offers you to experience Greece at its best. You will enjoy food that is locally grown in the garden around the place, excellent honey and rural charme. Geraldine and her husband George are the most wonderful and openminded people. We felt very much at home, supported by tremendous attention to detail in all aspects.


Oct 5, 2018


Η καλύτερη φιλοξενία από τους πιο ζεστούς ανθρώπους σε ένα υπέροχο μέρος. Μοναδική εμπειρία!


Oct 5, 2018


Really amazing experience


Geraldine and George are great hosts and genuinely want you to enjoy your stay. The fact that there is only room means your stay really will be bespoke to you. The location is idyllic and the whole island is beautiful. We went in early spring and although not super hot, the weather was good and we had the whole beach to ourselves. If you do choose to stay, talk to Geraldine beforehand as she can help with transfer and you can save some money that you would pay for a taxi.


The only downside isn't with Le Maison Vert Amande, but with the island, as it is fairly expensive, for food, drinks and this kind of thing, but not so expensive that you won't think it's worth it.


Oct 5, 2018


Danke Geraldine und Georges für die schöne Zeit mit Euch.


Im späten Oktober angereist, liegt die La Maison Amande auf Kea einsam in der Bucht von Spathi inmitten von Oliven-, Mandel- und Feigenbäumen. Wer dem Trubel des täglichen Lebens entrinnen will und die absolute Ruhe sucht, hat hier sein Ziel gefunden. Geraldine und Georges sind die perfekten Gastgeber. Ihre Herzlichkeit und Freundlichkeit macht den Urlaub auf Kea zu einem Traum, an den man sich immer wieder erinnern wird. Das alte Haus ist stilvoll restauriert und liebevoll eingerichtet. Das Apartment und die vorliegende Terrasse laden ein zum Verweilen. Mit leckeren Köstlichkeiten aus dem eigenen Garten verwöhnte uns Geraldine mit reichlichem Frühstück, Aufmerksamkeiten zwischendurch und den festlichen Abendessen mit hauseigenem Wein.


Wen das Abenteuer reizt, La Maison vert Amande zu besuchen, sollte sich ein geländetaugliches Fahrzeug anmieten, da die Anfahrt hinsichtlich des Wegezustandes in Teilen beschwerlich ist.


Oct 5, 2018


bijzonder mooi plek, een lente paradijs


heel vriendelijke/hartelijke verhuurders, mooi verblijf/huis, heerlijk ontbijt, groenten/fruit uit de tuin, rust en zee....


Oct 5, 2018


Hope to come back soon!


Beautiful and beautifully kept property, great attention to detail and aesthetics. Living in nature and absolute quietness. But above all Geraldine and Giorgos whose passion and hospitality really make the place alive and well-coming for guests.


The road to Spathi could be improved! But maybe not, as the place may become full of cars and loose it's charm..


Apr 22, 2018
We hadden het compleet naar onze zin... wat een fantastische tijd bij Géraldine en Georges! Ze hebben een fantastische plek gemaakt op het mooie eiland Kea. Hun huis ligt op wandelafstand van de zee... Pure rust en natuur... Ideaal om te wandelen en te genieten van de rust en de prachtige sterrenhemel. Géraldine zorgde dagelijks voor een heerlijk ontbijt en gaf ons tips voor bezoekjes, waar we konden wandelen, waar we lekker konden eten, ... We werden er in de watten gelegd. Het was ook mogelijk om er s avonds te eten, wat wel gemakkelijk is, aangezien je toch zeker een half uur moet rijden voor het dichtstbijzijnde restaurantje. We kregen ook een rondleiding in de "miellerie" en de rest van hun boerderij... We komen zeker terug naar jullie paradijsje! Liefs, Ruth&Etienne. En nogmaals bedankt om ons vervoer te regelen van en naar de luchthaven, ons 1ste nacht in Lavrio, en het huren van onze auto op Kea. Thanks!
Aug 8, 2017
Περάσαμε τέλεια!! Φανταστικά!! Η Geraldine και ο Γιώργος καταπληκτικοί οικοδεσπότες, με άποψη για οικολογία και ανταλλακτική οικονομία. Πας τσιτωμένος από τα 5,5 χιλιόμετρα χωματόδρομο και χαλαρώνεις στο όμορφο περιβάλλον του la maison vert amande.Θα ξαναπάμε!!!
Jul 18, 2017
2017年の7月に主人と2人で1週間滞在しました。お部屋やバルコニーはとても綺麗でセンスが良く1組限定なのでゆったりと過ごす事が出来ました。朝食は宿泊代に含まれていますが、ランチやディナーも希望すればフランス人の奥様が美味しいギリシャ料理やフランス料理を提供してくださいます。宿泊施設、食事、ロケーションは全て5スター以上です!来年のバケーションもこちらのB&Bに宿泊したいと思っています!ジョージ&ジェラルディンありがとうございました!
Jul 3, 2017
Géraldine και Γιώργο ο μικρός σπουδαίος παράδεισος σας μας προσφερε καταπληκτικές στιγμές χαλάρωσης,απολαυστικές γεύσεις και χορταστικές εικόνες εξοχής και καλοκαιρινής ανεμελιάς!!! Ευχαριστούμε για την απίθανη φιλόξενη και ευγενική σας περιποίηση!!!θα επιστρέψουμε σίγουρα!!!! Α bientôt, Γιάννης,Μαρία
Jun 23, 2017
Grazie a Geraldine e George

Due persone fantastiche un luogo magico non posso consigliare di meglio

Eccellenti colazioni gentilezza silenzio pulizia

torneremo

❤️
Jun 6, 2017
Περάσαμε ένα υπέροχο τριήμερο δίπλα σε δύο υπέροχους ανθρώπους που μας έκαναν να ξεφύγουμε από την καθημερινότητά μας! Το σπίτι ήταν εξαιρετικής αισθητικής, διακοσμημένο με φανταστικό γούστο! Το πρωινό ήταν πεντανόστημο και όλα τα προϊόντα ήταν από τη φάρμα! Μας έκαναν να νιώσουμε σαν στο σπίτι μας! Αν έπρεπε να περιγράψω με τρεις λέξεις την όλη φιλοξενία θα ήταν: ηρεμία, ξεκούραση, υπέροχοι άνθρωποι! Θα επιστρέψουμε κάποια στιγμή σίγουρα....
Mar 2, 2016
...το μικρό "κτημα" της Géraldine και του Γιώργου είναι μία μικρή όαση εκεί στο μυχό του Σπαθιού... Δεν μπορούσα να φανταστώ ότι υπάρχουν τἐτοια μέρη
στις τουριστικές Κυκλάδες του σήμερα. Όρνιθες και κοκόρια, κουνέλια γάτες και σκύλοι κι´ένας μικρός όνος... Μελισσάκια και μποστάνια, αμπέλι και ρίζες ελιές, τέσσερις μέρες βαθιάς ξεκούρασης...
Χαίρε Géraldine αεικίνητη!... Γειά σου Γιώργο με το καθαρό βλέμμα...
Feb 23, 2016
I was definitely in good hands here , but not only, in with great hearts also. Geraldine & Georges provide you the best personal service you can imagine. Quality of the food, beauty of the place, esthetic of the house and on top, communication of highest interest and kindness. She has done it all in the mercantile world in the first part of her life from which she turned her back to follow her heart and settle in Greece where she met a local beekeeper who is an open minded, earth grounded musician and philosopher. Modernity and tradition have in a unique place where you will enjoy being far from the world but at the same time at the very heart of life. Thanks to The cat, dog, roosters & chicken, the turtles, working bees and to you Georges and Geraldine. I love you, you have made my stay unique because you are! See you soon Chris
Dec 27, 2015
Words cannot describe how amazing our time at La Masion Vert Amande was. Don't even think twice about booking here, you will not regret it. This became the best part of our Greek tour, so much so, that we figured nothing will compare, so time to head home. Geraldine was so hospitable! She booked us a rental car at the port and met us on her front porch with a smile when we arrived. (Don't let the drive down be daunting, you will become a pro!) Geraldine is immaculate! Her standards cannot be met by even a 5 star hotel. The room was immaculately clean and designed. It was like slipping into another world. We visited in winter, so she had electric heating blankets under the sheets! This was a luxury my husband now wants in his own bed! He didn't want to get out of bed at all! Everything was chic and there were hidden design treasures everywhere! Geraldine served us a beautiful breakfast each morning with fresh bread, cake, egg, Greek yogurt, homemade marmalade and jelly, honey from their bees and fresh squeezed orange juice and coffee! I'm missing it already! We enjoyed her company so much and she joined us on our final day for a breakfast with excellent conversation! The best part of our stay (besides the excellent location, view, room and amenities) was the friendship and time spent with Geraldine and George. They treated us better than tenants, we felt like friends. They invited us into their home and shared their dinner with us on our last evening. The home and property tour, and all of the special touches (and love) Geraldine has put into La Masion Vert Amande are quite evident. Don't even think about it, just push the button and request to book immediately! You will not regret it at all! Until we meet again...and I hope we do sooner than later! Much love to Geraldine and George!
Dec 20, 2015
Wunderbar idyllisch gelegen, an einem der schönsten Strände Keas, ist Géraldines und Georges liebevoll restauriertes Haus. Wer ein Plätzchen abseits jeglichen Trubels und absolute Ruhe sucht, ist hier genau richtig!

Unser gesamter Urlaub wurde durch ihre Herzlichkeit und Lebensfreude zu etwas ganz Besonderem. In ihrem kleinen Bauernhof und dem gepflegten Garten wächst alles man benötigt. Daraus zaubert Géraldine leckere Köstlichkeiten vom Frühstück bis zum Abendessen. Ihr besonderes Highlight ist der BIO Thymian Honig!

Noch einmal einen ganz großen Dank an Euch für den wundervollen Tag mit Aglaia Kremezi und Ihren Mann!

Wir sehen uns bald wieder!
Aug 19, 2015
Geraldine and Georges were the perfect hosts for our laid back idyllic Cyclades holiday. Their ancient stone B&B bedroom and bathroom were spacious, comfortable and wonderfully styled by Geraldine around her Green Almond seaside theme. Almost all the food provided at breakfast (and at dinner on a couple of occasions) was grown and prepared by themselves and all was wonderfully natural and tasty. The drive down to Spathi Bay is not for the faint-hearted, it being 5km of a bumpy dirt road. But it is so worthwhile with your own idyllic peaceful and private B&B and a wonderful beach with it's own beach bar ! Do take your mask and snorkel as we spent many hours watching the wide variety of fish and sea-life in the bay.
Aug 13, 2015
Io e mio marito abbiamo trascorso quattro giorni in questo paradiso naturale a 100 metri in linea d'aria da una delle spiagge più belle di kea. Questa location che risulta ancora più bella,più singolare e curata nei minimi particolari,che unisce semplicità a ricercatezza, è allietata da GEraldine e GEorge perfetti padroni di casa.GEntili,riservati ma sempre presenti per ogni esigenza.NOn dimenticheremo facilmente le squisite colazioni e le cene preparate da Geraldine con i loro prodotti dell'orto che consigliamo vivamente di assaggiare.ALla prossima sicuramente.
Jun 29, 2015
wir sind gut zuhause angekommen, alles hat gut geklappt mit der
Rückreise. Wir hatten einen wunderschönen Urlaub bei euch in Spathi. Wir
haben uns sehr gut erholt und nun sind wir schon wieder am arbeiten.
Nochmals vielen herzlichen Dank für alles, was du für uns getan hast und
das wir an diesem wunderschönen Ort bei so lieben Menschen sein dürften.
Gerne kommen wir wieder, vielleicht in 2 Jahren?

Wir hoffen für Griechenland, das alles gut wird. Wir denken an euch und
wünschen euch das Allerbeste.
Liebe Grüße auch an Jorges und Olivier von Silvia und Jürgen
May 15, 2015
Géraldine & Georges haben uns 11 wundervolle Tage in ihrem Maison Vert Amande geschenkt. Mit viel Liebe, Fürsorge und einer einmaligen Gastfreundlichkeit wurden wir beherbergt. All unsere Wünsche wurden erfüllt! Traumhafte Unterkunft, traumhaftes Essen, traumhaftes Wetter. Wir können diese Unterkunft nur wärmstens empfehlen - WIR kommen bestimmt bald wieder!!!
Aug 24, 2014
Wir verbrachten eine erholsame, ruhige Woche mit sehr gutem Essen bei Geraldine. Individueller Service, super gastfreundlich, 5 Min. zur Badebucht. Zimmer ist sehr geschmackvoll eingerichtet. sehr schöner Garten. Wir gehen wieder dorthin.